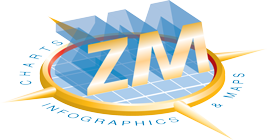 ZM GRAPHICS • Carol Zuber-Mallison
Custom infographics, GIS, cartography, and data visualizations for print, web, and presentation
INFOGRAPHICS
An infographic is a carefully woven mix of data visualizations, maps, text, and images into one package that tells a complete story.
Click thumbnails to see enlarged image.
Full-page graphic ran at the beginning of tornado season. Newspaper readers were encouraged to clip and put on their refrigerators. Client: The Dallas Morning News
One of a set of posters designed to assuage the fears of visitors waiting in line to ride the zoo's new balloon. Client: Philadelphia Zoo
An infographic on the Deepwater Horizon oil spill done within days of the disaster. I produced this in three intense days, doing all the research and writing myself. It has some design flaws that I would not repeat if given more time, but it was the first infographic explaining all the implications of the disaster and it quicky went viral because it is so rich in content.